Hagleunie Greenhouse Policy - Canada
What you need to know as a broker
Your clients work in the greenhouse horticulture sector. Hagelunie offers the flexibility to meet the specific needs of each greenhouse operation – the Hagelunie Greenhouse Policy. Do you wish to help your client to provide a quote for this insurance? Our specialists are happy to support.
Discover the Hagelunie Greenhouse Policy - Canada
Growers are looking for solutions that ensure business continuity. The Hagelunie Greenhouse Policy is tailored for clients in the horticulture sector. It consists of seven insurance products: greenhouse, commercial building, other structures, crops in greenhouses, inventory, items in stock and business interruption.
✓ Licensed in Canada
✓ Experts in the horticulture sector
✓ Specialist in risk management
✓ Transparent terms & conditions
✓ Fast claims handling
Ready for the future?
The Hagelunie Greenhouse Policy serves as a new fundamental function for our business, from policies to claims handling. Would you like to learn how to make quotations for your clients? We are happy to help. Contact us for more information.

Learn about the differences about tax arrangements
Tax arrangements for you as a broker can vary among Canadian provinces. Each province has its own regulations regarding provincial taxes and other fees. It's important to stay up-to-date with the tax and regulatory requirements of the province(s) you operate in to ensure you are compliant with all applicable laws and regulations and if applicable (Quebec excluded) its own set of statutory conditions. The overview below is the current situation but can change over time. We will make sure our products are always up to date.

Please read the table below to learn about the tax arrangements in your region. Note that the taxes Federal Goods & Services Tax (GST) and Provincial Sales Tax (PST) are collected and paid by you and might be subject to change. We shall process a yearly update and keep you posted.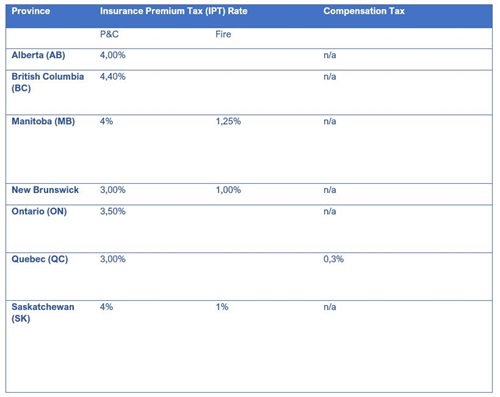 Fill out the Ultimate Beneficial Owners (UBO) Form
As a company based in the Netherlands, Hagelunie is subject to legislation regarding the Anti Money Laundering and Anti-Terrorist Financing Act, the Financial Supervision Act and other applicable legislation. Companies are increasingly expected to understand who they are doing business with.

If you have a new client seeking insurance services at Hagelunie, they must complete the Ultimate Beneficial Owner (UBO) Form. This form is a mandatory requirement that helps us verify the identity and ownership of our clients. By filling out this form, you can help guarantee a smooth and transparent process for obtaining insurance coverage at Hagelunie.

Download the 'Ultimate Beneficial Owner (UBO) Form here
In case of damage, this is how you can help your clients
Report this claim to our claims department as soon as possible. Our team will help you further. We will contact the client and/or you and inform the client and/or you about the claims handling.

If your clients report damage, you can reach us at:
Email: hagelunieCA@hagelunie.com (for non-urgent damages)
Phone: 1-833-511-3869 (for urgent damages)

We are available 24 hours per day for reporting damage. After reporting the damage, we will send you information to help you handle it.
Learn more
Download the information documents around Hagelunie Greenhouse Policy here:
- Sample declaration page
- Amendments overview clauses
- Amendment terms & conditions

Questions? Contact us
You can reach us at:
Email: hagelunieCA@hagelunie.com
Phone: 1-833-511-3869
Address: 351 King Street East Toronto, Ontario M5A 1L1, Canada

FAQ about Hagelunie Greenhouse Policy for brokers
1. As a broker, how can I support clients in the greenhouse horticultural sector?
Insuring risks of greenhouse businesses requires expertise. Our risk specialists work closely with you to support clients including:
• Assessing risks: our experts work with you to understand the risks involved in insuring a greenhouse business. Together with you, we analyze the clients' operations, the type of crop, and other factors to determine the level of risk and potential damages or losses.
• Providing risk management solutions: based on our assessments, our experts recommend risk management solutions to clients. We may suggest measures to prevent or mitigate losses.

2. Where can I find relevant information that supports brokers with client advice?
On this page you can access product information, underwriting guidelines, terms & conditions, and other relevant documents. Our team of underwriters are also happy to assist you. We also send out email newsletters that highlight company news, industry insights, and updates to our insurance products to help you as a broker stay up-to-date. Click here to subscribe. Occasionally we host sessions with brokers in which we provide product knowledge, claims handling, and risk management techniques. These sessions help you understand the nuances of our insurance coverages and provide better client advice. Last but not least, you have access to our dedicated team of underwriters and claims handlers who can provide expert advice. This helps you navigate policy requirements and ultimately drive your business growth.

Questions? We are here to help you
Our team will be happy to answer your questions. You can reach us at 1-833-511-3869. Or send an email to hagelunieCA@hagelunie.com.