Together
Also if things go wrong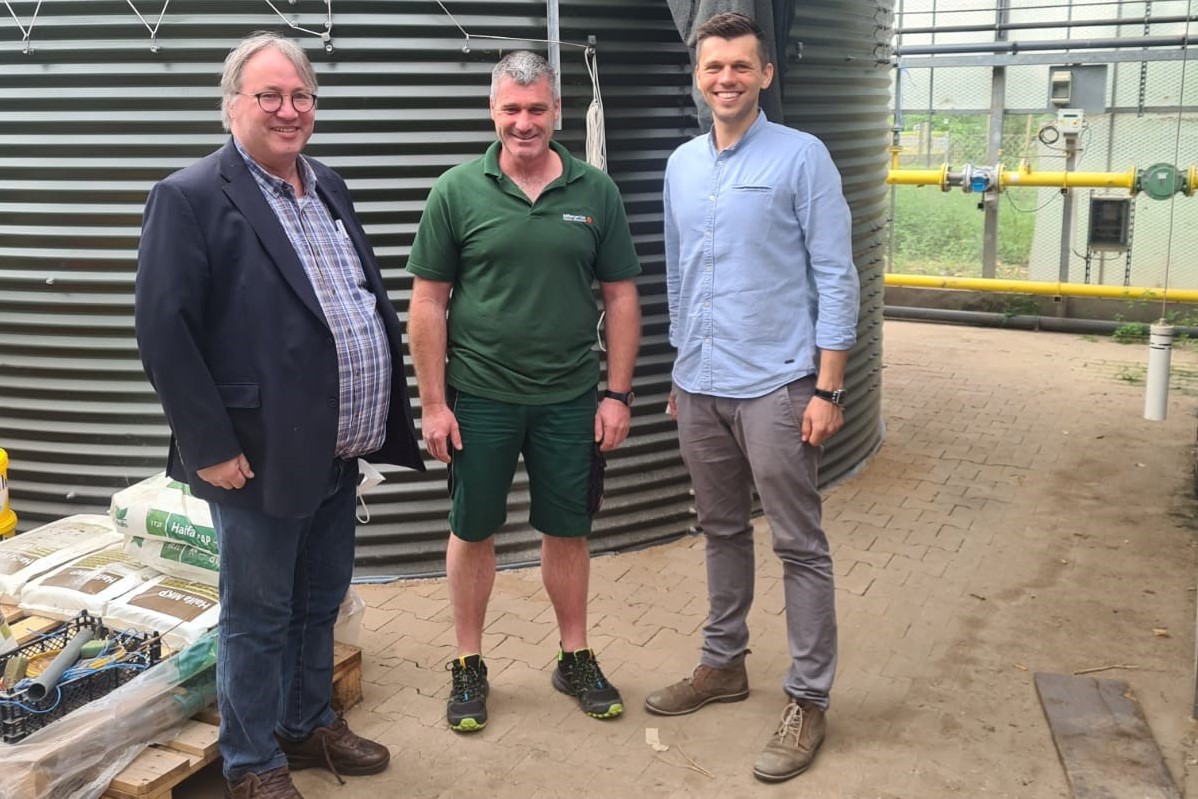 Peter Heid had been insured with Hagelunie for just a month when his water silo burst open. A water silo inspection had been discussed upon acceptance, but given the short time frame, this inspection had not yet been carried out. Peter rents out his greenhouse to his brother-in-law Simon Höfler, where he also works as a manager.
The damage was repaired within 24 hours
The greenhouse was empty when the water silo burst open. Therefore, there was no crop damage. There was, however, damage to the greenhouse that you obviously want to have repaired as soon as possible. After the damage report, Hagelunie immediately deployed repairer Debets Schalke, and within 24 hours an employee from Debets Schalke was at Peter Heid's to inspect and assess which material was needed to repair the damage. At the end of the same week, the damaged greenhouse was repaired and the water silo was repaired by a water technician.
Immediate clarity
"After consultation with insurance adviser Andreas Balthasar, we were able to quickly reassure the customer", says René van Langerak, risk specialist at Hagelunie. "This damage was compensated on a leniency basis. Due to the short time frame, Peter had not yet gotten the chance to have the water silo inspection carried out and to follow the recommendations. In addition, the rust on the outside of the silo was not visible."
Claim settlement
Peter Heid and tenant Simon Höfler were very satisfied with the claim settlement. In particular, the speed with which action was taken was experienced as very positive. I'm glad I decided to hedge this risk. Up to now, the risk has never been insured, Peter Heid points out. But that was my own decision. Partly due to the fact that I have not had any damage at this company in 25 years, not even a cracked window."
Going one step further on prevention
In the Netherlands, we have already been able to identify damage to silos at an early stage through inspections. Repairs or replacements prevented worse things from happening. Because anyone who has ever seen it knows: as a grower, you really don't want to experience a silo burst! Besides, the insurance only reimburses the damage if the silos have been inspected by a certified company and recommendations have been followed. In Germany, however, a water silo inspection is not mandatory. But to prevent more bothersome damage, insurance adviser Andreas Balthasar has now ensured that his relations are inspected by Hyente. In the Netherlands, Hagelunie also works closely with this certified water silo inspector.
The cause of a silo burst
Corrosion weakens the steel silo sheets and this is not always visible from the outside. During a water silo inspection, the inside of the water silo is also examined. The rust on the inside is usually caused by leakage, which in turn is due to wear of the silo foil or a high groundwater level. This can occur in water silos that are seven years old and older. That is why Hagelunie advises having water silos inspected when they reach this age.
In Germany are in Knoblachsland several cases of silo bursts reported. Hagelunie strongly believes in prevention and therefore always makes the subject of water silo inspection open to discussion upon acceptance.
Questions?
Do you have any questions about this article, or would you like to know more about prevention or insurance? Please feel free to contact us.
Water silo inspections prevent damage
Is your water silo 7 years or older? Then it is wise to check whether the recommended water silo inspection has been carried out and whether the recommendations from the inspection have been followed. An inspected silo has a sticker indicating the validity of an inspection. Hagelunie is affiliated with a number of water silo inspectors who also work internationally. If you engage one of these inspectors, you are assured that the inspection is carried out in accordance with Hagelunie's guidelines.