Hagelunie new partner Dutch Greenhouse Delta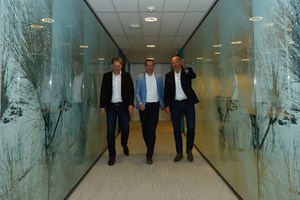 Hagelunie is the newest partner of the Dutch Greenhouse Delta. A foundation of Dutch internationally orientated greenhouse builders, installers and suppliers. The agreement is officially signed on May 8th by Eric Egberts, Peter Broekman and Olaf van Marrewijk.
Peter Broekman, Managing Director International at Hagelunie: "Horticulture is a high risk and high capital industry. By joining our forces with the Dutch Greenhouse Delta, we co-operate and support the Dutch suppliers of high-tech greenhouses in their ambition of sustainable global growth and the cultivation of high-quality vegetables, flowers and plants. We can assure investors and entrepreneurs of continuity by offering specialised solutions in horticultural insurance, claims handling and risk management.
    
Eric Egberts, CEO Dutch Greenhouse Delta: "All our partners contribute in strengthening our international position in the greenhouse industry. This requires not only technical knowledge, but also knowledge in the field of risk management, insurances and finance. Hagelunie is therefore a very welcome addition to our collective".
At this moment already 20 companies, branch organization AVAG and Glastuinbouw Nederland joined the Dutch Greenhouse Delta.
Picture: Rolf van Koppen