Solar panels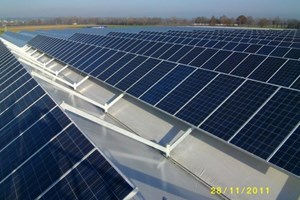 Is the greenhouse/building construction built on the extra weight of panels?
Depending on the type, a solar panel weighs between 12 and 20 kilo per m². The construction of your greenhouse or building must be suitable for this extra weight. On greenhouses this weight can increase as a result of a modified snow melt factor. This extra snow load must also be taken into account. Therefore, ask your greenhouse builder or constructor to calculate if the extra weight poses a risk on your greenhouse/building. For a constructive assessment you can also contact us.
Prevent fire by solar panels
Place the solar panels on a non combustible roof.
Provide your solar panel installation with an arc detection.One of the main reasons of fire in an electric circuit is arcs. These arcs come up in damaged wires due to wear and tear, nibble-damage by animals or badly joined connections. Therefore it is good practice to equip the inverters with an arc detector. In case an arc does occur the installation will be switched off immediately and a possible fire and fire transfer to the building is prevented in a simple manner.
Connect the inverters on a non-combustible surface, in a room with proper ventilation.
Do not place combustible stock and material in the vicinity of the inverters.
Proper maintenance increases the efficiency and life expectancy of the installation
Apply for a final inspection by a specialized company after the installation of your panels.
Have your installation serviced periodically by a specialized company.
Clean the panels according to the manufacturer's instruction.
Solar panels are sensitive to overvoltage. Provide your installation with an over-voltage protection.
Regulations for solar panels can differ between countries. Applying regulations in the Netherlands are: NEN1010 2015 / NEN-EN-IEC62446
Prevent theft
Solar panels are attractive for burglars. Protect your solar panels against theft:
Make sure that the roof that holds the panels cannot be reached easily.
Connect the solar panels with stainless steel 'one directional screws'.
If you what to know more?
Don't hesitate to call, or send us an e-mail.