An empty greenhouse requires extra attention during the winter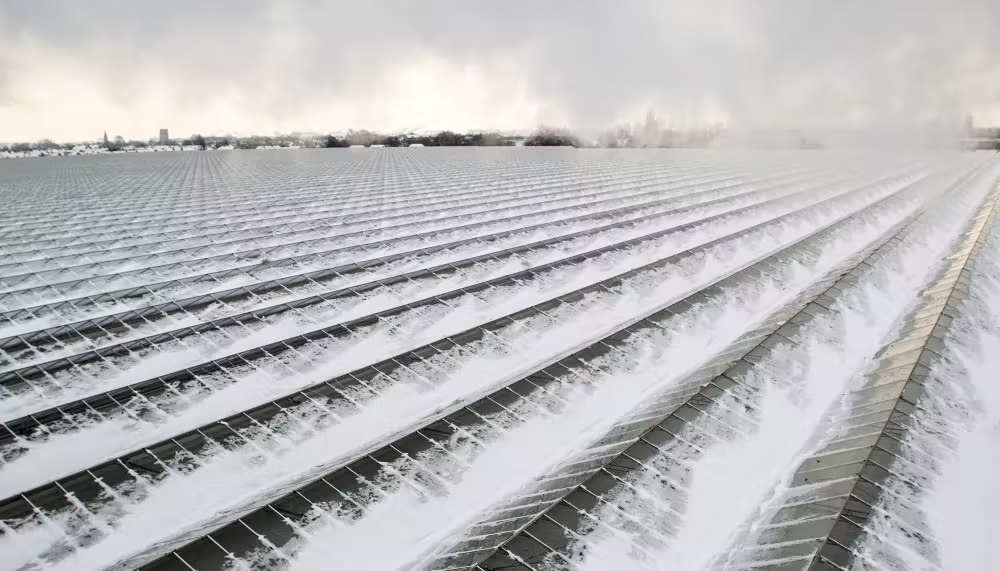 Winter weather increases the likelihood of damage to your greenhouse. If you leave your greenhouse empty—either temporarily or for an extended period—to save energy, for example, special attention is required to keep your greenhouse undamaged and ready for use. How do you prevent damage and ensure that you can resume production quickly? We are happy to help.
Are you doing everything you can? Use your greenhouse and systems properly, especially in winter.
Review the operating manual for your greenhouse and systems. If in doubt, seek advice from your greenhouse builder, fitter or suppliers. They also know a lot about the use of your greenhouse and systems. Ask them what you can do during winter conditions and downtime.

Heat the greenhouse when weather conditions call for it.
Even an empty greenhouse needs to be able to be heated quickly. Greenhouses can only support a limited amount of snow. The weight of a pack of snow can build up considerably, especially if it lasts or if rain falls on it. Excessive weight can break windows, damage the greenhouse frame, or even cause the greenhouse to collapse. Frost in an unheated greenhouse can damage windows, pipes, screens and systems.

If it starts snowing, start heating your greenhouse immediately to keep the roof free of snow.
This minimises the risk of broken windows and damage to the frame.
• Plan ahead, especially if your greenhouse is cold and takes longer to warm up.
Bring the greenhouse up to temperature before snow starts to fall. Most greenhouses require a temperature of at least 12 °C directly below the roof to melt the snow.
• Roll out the screens. Do not stow them completely until all the snow has melted off the roof.

Learn more about preventing snow damage here.

If temperatures drop below freezing, heat sufficiently.
Heating the greenhouse prevents frost damage to windows, systems, screens and pipes—damage that can cause high costs and slow crop start-up.

• De-ice the greenhouse roof and facades as soon as possible to prevent windows from breaking.
• Do not open the vents if they are frozen shut.
• Prevent the computer from opening windows when frozen, maintain frost protection on the process computer.
• Check whether the screen is frozen before opening it. If there is no need to open the roller screen, leave it closed.

Learn more about preventing frost damage here.

An "active greenhouse" prevents damage from frost and snow
• Keep your systems active.
• Maintain your buildings and systems to keep them in good condition. This could include checking the foundation, steel frame and rainwater drainage.
• Repair broken windows and leaks and keep your greenhouse free of weeds.
• Continue to inspect your water silo and electrics at the prescribed intervals
• Inspect your greenhouses every day to check that everything is still in order. Check for rodent damage to pipes, for example.
• Follow up on alarms immediately.
• Check out our greenhouse maintenance checklist.

Take good care of your greenhouse and systems.
We ask that you maintain your greenhouse and systems with due care and diligence. It is a matter of course for entrepreneurs. Your insurance is intended for unforeseen and sudden claims.

Shutting down your systems is undesirable for business continuity and your insurance coverage
If you shut down your systems, you will be unable to adequately maintain the greenhouse and the systems. If you need to shut down the systems for some reason:
• Shut them down correctly.. Your fitter can advise you on this.
• Continue to maintain buildings and systems. Check our greenhouse maintenance checklist.
• Inspect your greenhouses every day to check that everything is still in order. Check for rodent damage to pipes, for example.
• Follow up on alarms immediately.

More information
If your greenhouse is empty and you want to know more, contact your insurance broker. They can advise you on the conditions and put you in touch with a Hagelunie greenhouse specialist.