Explosion safety on the flue gas cleaner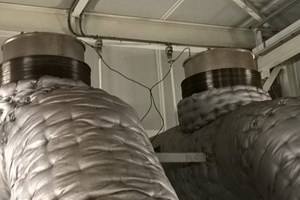 Ever since early 2000 CHP has been a common appearance in horticulture to provide heat, power and CO2. Unfortunately, on a regular basis explosions appear in the chambers between the engine and the flue gas cleaner due to exhaust gases that are not fully burnt. An explosion safety can save you the investment in a new cleaner.
Modern engines are equipped with a sophisticated management system that arranges a thorough flush of the whole exhaust channel before the CHP starts. Even after this cleaning remains of gases can stay behind leading to an explosion as soon as the engine starts. This explosion can lead to a damage to the housing of the cleaner or the ceramic blocks inside it. This can cause high costs for repair, but also a major stand still time.
Some CHP builders offer a standard include of an explosion safety between the engine and the cleaner. Others only do this on request or even deny the problem. Despite the fact that a safety is not cheap, one damage will exceed these costs by far.
Our Hagelunie risk specialist knows all about this technique and it's possibilities. You can contact him in case you would like to know more about this risk and how to prevent it from happening.