Hagelunie Greenhouse Policy - Canada
✓ Insurance cover for your greenhouse business risks
✓ Industry experienced, personable brokers to guide you through and provide customized insurance solutions
✓ Choose your own covers
✓ Experience reliable claims service

Find a broker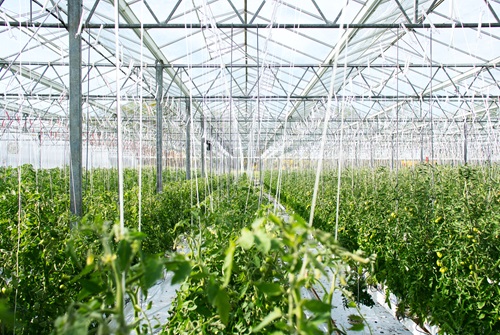 Hagelunie Greenhouse Policy in a nutshell
As Canadian grower, you are aware of the opportunities and risks. Risk management is an important part of your daily business operations. Due to climate change, a growing world population, the rising need for local fresh food and internationalization, horticultural businesses grow rapidly. If damage occurs, you want to proceed with your business and daily operations quickly.

With the Hagelunie Greenhouse Policy, you choose insurance products that cover your crucial risks. This tailor-made greenhouse insurance package allows growers to insure crops, buildings, inventories, stock, and other risks related to horticultural businesses. The insurance policies are modular and well-aligned with coverages covers that fit together. The insurances are delivered on one policy document.
Hagelunie Greenhouse Policy: 7 insurances for greenhouse businesses
Regardless of your business type, every company faces different risks. We offer you the opportunity to customize your business insurance to deal with unexpected damages or losses. We're here to protect your business continuity. Below are some of what can be covered under this policy:
- Greenhouses: Your greenhouse is essential to your business and its success. Should your greenhouse be damaged, we'll help you cover the cost of repair and rebuild.
- Commercial buildings: Your commercial buildings are also an important aspect of your business. Should your foundation, underground structures or functional fixtures be damaged, we'll cover the cost of repair and rebuild.
- Other structures: Equipment that cannot be placed under your greenhouse or building are also important to protect to ensure smooth business operation.
- Inventory: Protect your business continuity after storm damage or breakdown. We insure horticultural work located in or near your greenhouse at the risk location.
- Items in Stock: We help protect your stock that is intended for the production. Examples include raw materials, auxiliary materials, containers and packaging.
- Crops in Greenhouses: Your crop is important to you. We insure crops in greenhouses and business interruption.
- Business Interruption: Unexpected damage shouldn't result in you losing profit. We also insure business interruption.
Insurance Terms and Conditions
Want to know what is covered exactly? Download our insurance terms & conditions for different years below or get in touch with your broker.
• 2022 - Terms and conditions 11.2 CA
• 2023 – Terms and conditions 12.1 CA

Statutory conditions
Each province in Canada, Quebec excluded,has its own laws and regulations including its own set of statutory conditions. Below you can download the statutory conditions for the various provinces.
Statutory Conditions Alberta
Statutory Conditions British Columbia
Statutory Conditions Manitoba
Statutory Conditions New Brunswick
Statutory Conditions Ontario
Statutory Conditions Saskechawan
Additional Policy Conditions Quebec
6 Benefits of Hagelunie Greenhouse Policy
✓ Licensed in Canada: being a Canadian insurance provider, we're here to stay and our brokers can directly offer our insurances to greenhouse growers.
✓ Experts in the horticulture sector: thanks to years of experience in the horticulture sector, together with you and your broker, our goal is to provide you the proper business insurance coverage and risk management.
✓Specialist in risk management: we offer personalized risk management advice to help you reduce losses and ensure your business continuity.
✓ Transparent terms & conditions: information on what is covered and what is not is clearly stated in the terms & conditions. This way, you have a peace of mind knowing what parts of your business and investments are protected.
✓ Professional broker network: headquartered in the Netherlands, we are in close collaboration with Canadian insurance brokers.
✓ Fast claims handling: in case of damage, our experts are at your service. Specialists with greenhouse horticultural knowledge will help you with reducing damage and claim settlements to ease your concerns. This way you can proceed business operations promptly.
We're happy to provide you with tips to reduce risks
What matters to you, matters to us. Prevention is better than cure. Ensuring business continuity is important to you and to us. At Hagelunie, we believe that gaining insights into risks and prevention opportunities help you make the right choices. Read our prevention articles here and subscribe to our newsletter.
Hagelunie Greenhouse Policy Frequently Asked Questions (FAQs)
1. Why is a greenhouse horticulture insurance necessary?
As a grower, you are aware of the opportunities and risks. Risk management is an important part of your daily business operations. If damages or losses occur, you wish to proceed with your business and daily operations quickly. With the Hagelunie Greenhouse Policy, you choose insurance products that covers your crucial risks. This tailor-made greenhouse insurance package allows growers to insure crops, buildings, inventories, stock and other risks related to horticultural businesses.

2. What are the different types of greenhouse insurances?
The Hagelunie Greenhouse Policy has 2 types of insurance coverage:
(1) Property & Movable property
Property includes greenhouses, commercial buildings, and other structures.
(2) Crops in Greenhouses & Business Interruption
Movable property includes inventory and items in stock.

3. Who needs it?
The Hagelunie Greenhouse Policy is suitable for businesses that rely on greenhouses to grow plants, flowers, or other crops. These include commercial nurseries and greenhouse businesses.

4. What does the Hagelunie Greenhouse Policy cover?
The Hagelunie Greenhouse Policy is tailored to greenhouse horticultural businesses. Key features include all-risk coverage for damage to greenhouse buildings, structures, equipment and crops; coverage for loss of income due to damage of loss of crops.

5. How much does Hagelunie Greenhouse Policy cost?
The cost depends on the type of policy you have and its coverage limits. Your broker will assist you to ensure you have the proper coverages.

We are happy to help
• For growers: our insurance covers for greenhouse businesses can be applied via brokers. Your broker knows your greenhouse business and its risks. They can provide you personalized advice. We work with brokers in various regions. Find a broker >>
• For brokers: Want to know how to make a quote for your clients? We provide information for you so that you can prepare an insurance quote tailored to your client's business. Support for brokers >>